Mormon Boyz gay porn dvds features gay ritual sex between men and virgin male teens. These teens are hot Mormon missionaries, and many are straight, but not all. Every gay Mormon boy hopes to participate in gay daddy-son secret temple rites. Gay Mormon men in Mormon underwear engage in gay Mormon sex.

Elder Miller: Chapters 1-5 - Gay DVD - Studio: Mormon Boyz - new

Elder Miller is steadfast in his mission. He's determined to doing everything correctly, timely and with he utmost commitment. And as a result he's been given the highly respected position of Assistant to the President. This ethic is not only shown in his missionary tasks, but extends as well to how he cares for his body.
Elder Holland: Chapters 1-6 - Gay DVD - Studio: Mormon Boyz - new

Elder Holland has been able to get away with a lot. With his blond hair, toned body, and charming smile, it's no surprise that he's become quite popular. He's only been on his mission a short while, but he's already earned a reputation for being a bit of a mischief maker. He's gotten into trouble for pantsing the other boys, short-sheeting beds, and turning off alarm clocks so the other missionaries sleep through their wake up times. Needless to say, the higher priesthood are keeping an eye on him.
Elder Dudley: Chapters 1-4 - Gay DVD - Studio: Mormon Boyz

Elder Dudley has received an invitation to join a secret organization within the church called The Order. If he wants to become a member and receive the higher priesthood authority, he must go through all of the required steps. Unsure of what awaits him, he knows he must show complete obedience to join.

Elder Dudley: Chapters 5- 8 - Gay DVD - Studio: Mormon Boyz

Elder Dudley's journey into the all-male secret Mormon sex cult continues in Elder Dudley: Chapters 5 to 8. Putting his trust in his priesthood leaders has been paying off, as Elder Dudley finds himself a few steps away from being ordained to the higher priesthood. But after having already received his second annointing, Elder Dudley gets caught fooling around with his handsome companion.
Elder Esplin: Chapters 1-4 - Gay DVD - Studio: Mormon Boyz

Elder Espin is everything one would expect of a Zone Leader: respectful, attentive, dutiful. Not only that, he's blessed with killer good looks, and a tight firm body. He seems to only have one problem: a few months into his mission he found himself questioning the teachings of the church. He couldn't quite put his finger on it, but felt like something was missing. This was further complicated by his intensely repressed sexual urges.
Elder Ence: Chapters 1-4 - Gay DVD - Studio: Mormon Boyz

Elder Ence has been a real trouble-maker since he began his Mission; he has never played by anyone's rules. He had always reacted badly to the idea of being subservient, submissive or meek. He was his own master. He didn't know what to call it, but around the other missionary boys the thought of himself as an alpha male. He wanted to be in charge. But everything gets turned upside down when he learns about the secret priesthood order, and the steps of initiation into a Higher Priesthood.
Elder Ence: Chapters 5 - 8 - Gay DVD - Studio: Mormon Boyz

The Brethren have seen what Elder Ence is capable of and are eager for him to continue his initiation into the Higher Priesthood. Despite his rebellious attitude and alpha male ego, the sexy young Mormon is learning that obedience has its perks. Elder Ence and his missionary companion Elder Dudley have found a partner in crime with Elder Sorenson, and the three of them continue to get into light-hearted trouble while continuing their journeys into the the secret fraternal Order.
Elder Gardner: Chapters 1-4 - Gay DVD - Studio: Mormon Boyz

Handsome, young Elder Gardner has been living each day of his mission hiding a terrible secret. He's so burdened by the shame of his sexuality, he barely even looks at the sexy older men who've taken an interest in him. Deep down, all he wants is a sexy daddy to say the magic words that will free him from his angst: "good boy." The Brethren see great potential in him and we are excited to help him earn those words.
Elder Lindsay : Chapters 1-4 - Gay DVD - Studio: Mormon Boyz

The first few weeks of Elder Lindsay's Mormon mission have been a fast-paced blur. It was practically yesterday that his family and friends gathered at his home as he opened his call and discovered where he would serve. Now that it's been a few weeks, he sometimes likes to recall that first night when he watched his companion strip down to his form-fitting Mormon garments, and it took all of his willpower not to get an erection then and there.
Elder Sorensen: Chapters 1-5 - Gay DVD - Studio: Mormon Boyz

Elder Sorensen is one of the finer specimens of Mormon male youth, and The Order has great plans for the boy...assuming he can successfully pass through the rites that will test his devotion. And for any boy who desires to receive the higher priesthood, he must prove himself worthy to enter into the covenants necessary to join The Order.

Elder Sorensen: Chapters 6-11 - Gay DVD - Studio: Mormon Boyzs

Elder Sorensen is everything a Mormon boy should be. But to join The Order, he must be punished for his sins. He'll be spanked like a naughty little boy, then his hole will be stretched with a beaded instrument. But after it all, he'll love his leaders more than ever. Elder Sorensen knew this day would come.

Elder White: Chapters 1-4 - Gay DVD - Studio: Mormon Boyz

Elder White's movie-star good looks and winning smile have made him popular with the other missionaries and his leaders. Everyone is sure he'll be an important church leader one day. But just when he thinks he has figured out missionary life, another boy tells him the church is actually run by a group of men known as The Order

Elder White: Chapters 5-8 - Gay DVD - Studio: Mormon Boyz

Under the Order's guidance, innocent Elder White is quickly learning he's an insatiable bottom. Now that he's been initiated, he's thirsty for even more intense experiences. During Elder White's initiation, he's thirsty for even more intense experiences. Now it's time for him to make the Covenant that will seal his membership in The Order.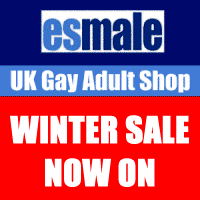 Esmale (UK Gay Adult Shop) sells a large range of gay adult sex toys including a range of fetish and restraint products, Cock and Ball play items, Whips, Paddles and Slappers, Blindfolds, Masks and Hood and are the UK stockist of Mr B leather and fetish products. They also sell a large range of men's designer underwear, condoms and lube, fleshjacks, jock straps and anal toys. Treat yourself!
Save an extra 10% on top of their already discounted prices with our exclusive code 'GAY10'. Click here to shop
See also: www.gayadultshops.co.uk