Icon Male is a highly rated gay porn dvd studio from Canada that specialises in gay features with strong storylines, often featuring controversial topics such as love between teachers and pupils, family members, and other taboo encounters. Titles include Fathers & Sons, Forbidden Encounters, Forgive Me Father, and Schoolboy Fantasies. All Icon Male features are written and directed by Nica Noelle.

Brandon Wilde's First Gang Bang - Gay DVD - Studio: Icon Male - New

Sexy porn superstar Brandon Wilde has done a lot of wild things in his career but he's never had the thrill of bottoming for several men at once! In Brandon Wilde's First Gang Bang, Brandon explains what's behind his insatiable desire for passionate tops, why he chose his co-stars and why he wanted Icon Male to make his wildest dream come true.
Sugar Daddies 3 - Gay DVD - Studio: Icon Male - new

These bad boys need a daddy who can fill all their needs - so welcome to Sugar Daddies 3. Young studs Jaxton Wheeler and Alexander Gustavo know a thing or two about hustling older men for money. Unfortunately, sensitive Tony Salerno doesn't know his relationship with Jaxton isn't the real thing.
Baby Boy - Gay DVD - Studio: Icon Male

A beautiful boy. A deviant man. A depraved love. In this tale from another time, mysterious older man Hugh Humbert checks in to a New Hampshire Inn, where he meets beautiful young man Beau Haze (the Baby Boy of the title). As Beau's widowed mother makes a move for Hugh, young Beau warms up to the older man, suggesting they spend some boy time together reading dirty magazines when his mother isn't around.
Brothers - Gay DVD - Studio: Icon Male

Some things you only share with your brother. Sensitive, insecure Charlie (Colton Grey) finds himself falling for his new stepbrother, athletic and confident Sean (Connor Maguire). But Charlie soon discovers that his older brother is tormented by a dark secret, and the only cure for his pain is a love too forbidden to speak of. Brothers is a scorching tale of erotic redemption!
Cheaters - Gay DVD - Studio: Icon Male

What happens when your lover is a liar. In Cheaters you get to peek in on four couples who are being unfaithful to their sexy partners in a quest for even more hot sex. Billy Santoro plays the abused scared spouse to win sympathy sex from young and well-hung Armond Rizzo and Kory Houston. But when Billy's boyfriend Jaxton Wheeler finds out, he pays Armond a visit and shows the Latin lover the meaning of fear.
Daddy's Big Boy 1 - Gay DVD - Studio: Icon Male

Icon Male takes you inside the bedrooms of four hot daddies who love well-hung boys in Daddy's Big Boy. With explosive new scenes that will leave you breathless, these dads and their boys really know how to heat-up the screen. Distinguished Adam has a craving for young and dangerously hung Sam. Billy tames sexy bad boy Colton. Muscle daddy Nick falls for hot teen Trent, and saddy Dirk pays a late night visit to pretty boy Colton.
Fathers and Sons 1 - Gay DVD - Studio: Icon Male

When fatherly love becomes forbidden lust. Long time friends Douglas (Nick Capra) and Scott (Rob Yaeger) have watched each other's sons Daniel and Noah (Brent Corrigan and Alex Greene) grow up into strapping young men. But when the fathers and sons get together to celebrate Daniels 18th birthday, Douglas is faced with a sudden attraction to young, athletic Noah.

Fathers and Sons 2 - Gay DVD - Studio: Icon Male

When old college buddies David (Dirk Caber) and Mark (Nick Capra) take their young sons (Ian Levine and JD Phoenix) to the mountains for a winter retreat, snowball fights and late night card games create unexpected sexual tension between the pairs. In Fathers & Sons 2, the gorgeous sons struggle with their taboo desires, so they turn to each other's dads for support and the sexual gratification their young bodies crave.

Football Hero - Gay DVD - Studio: Icon Male

Hot brooding football hero Ty Rodderick decides to come out of the closet just as football season begins, causing his teammates to bully him on the field. But do their mean spirited jokes mask their own gay desires? Brandon Wilde and Alex Greene's aggressive horseplay turns to lust in the showers, while jacked team doctor Trenton Ducati uses the boys' secret tryst to his advantage with Brandon.

Forbidden Encounters1 - Gay DVD - Studio: Icon Male

Peek into the secret rendezvous of four beautiful male couples who are struggling with intense, forbidden desires. Muscular Billy Santoro is engaged to be married, but his real passion is for his fiance's young, slender brother (Ludo Sandor). Similar family conflicts burden tumultuous older/younger couple Brad Kalvo and temperamental, sexy teenager Armand Rizzo.

Forbidden Encounters 2 - Gay DVD - Studio: Icon Male

In Forbidden Encounters 2, the sequel to the hit original, we peek in on four encounters between secret gay lovers. Liam Harkmoore seduces married, straight college professor Rob Yaeger, while Aaron Slate tracks down estranged stepdad James Hamilton to confess his love for the older man. Best buddies Alexander Greene and Ty Roderick cheat on their unsuspecting girlfriends to hook up with each other, as Liam confronts Alex about his cheating ways, only to be taught the hottest lesson he'll ever learn.
Forbidden Encounters 3 - Gay DVD - Studio: Icon Male

Nothing compares to forbidden sex. Secret sexual trysts between men continue in this third entry of Icon Male's Forbidden Encounters. Daddy Dirk Caber lusts for his friend's young son Connor Maguire and they meet up for a secret marathon sex session.
Forgive Me Father 1 - Gay DVD - Studio: Icon Male

In Volume 1 of this emotional new series we take you inside a priest's confessional, where guilt ridden parishioners beg for forgiveness for their sins of the flesh. From guilt ridden teacher (Nick Capra) who fals in love with troubled, young student (Armand Rizzo), to former priest (Lance Hart) who left the church when his desire for parishioner Tommy Defendi became too much to bear.

Forgive Me Father: Volume 2 - Gay DVD - Studio: Icon Male

Handsome and sensitive Father Patrick is tormented by memories of of his secret past before joining the priesthood. As he listens to male parishioners' confess their lustful sins, the sexually frustrated priest begins to unravel and struggle with his own unmet desires. Enter the tortured Father's alter-ego: A sexy, evil twin who has absolutely no trouble acting on his lust for another man's flesh.
Gay Massage House - Gay DVD - Studio: Icon Male

Icon Male takes you inside a special massage parlor, where closeted men can finally indulge in the gay sex they crave. Brent Corrigan is an all American football hero who secretly yearns for another man's touch, so smooth daddy Adam Russo gives the frustrated stud what he needs.


Gay Massage House 2 - Gay DVD - Studio: Icon Male

Closeted men are back for more sexual healing! Muscular masseur Billy Santoro suspects young client Brandon Wylde is partying to hide from his secret gay urges. Sensitive hunk Andrew Fitch loosens up religious and repressed teen, Jacob Ladder, and jacked and sexy Brock Avery takes on the gorgeous teen Sam Truitt and hot Irishman Brendan Patrick.
Gay Massage House 3 - Gay DVD - Studio: Icon Male

These hot, hung masseurs cure more than aches and pains. Icon Male's sexy therapists return for Gay Massage House Volume 3 to help hot closeted men face their true sexuality. Muscular Jessie Coulter gets to the bottom of straight guy Andrew Fitch's anxiety and tension as stunning Adonis Theo Ford saves athletic Alexander Greene from marrying into a life of frustration.
His Daughter's Boyfriend 1 - Gay DVD - Studio: Icon Male

Gorgeous Nick Capra stars as the perfect dad who finds himself struggling with an intense attraction to daughter Siri's new boyfriend (Connor McGuire). As Nick and Connor grow closer, Siri learns that Connor may not be what he seems, and that it may be her father the young, muscular hunk really craves.

His Daughter's Boyfriend 3 - Gay DVD - Studio: Icon Male

When Max's teenage daughter brings home her new boyfriend in His Daughter's Boyfriend 3, Max is instantly impressed by the young soft-spoken blonde stud. Feeling paternal, Max takes Tommy under his wing and even helps furnish the college boy's new apartment. Confused by his secret lust for the sexy older man, Tommy begins to explore his own sexuality and comes to some startling conclusions.
His Sister's Lovers - Gay DVD - Studio: Icon Male

He could have any man he wanted, except one - his sister's lover. Sexy loner Angel (Tommy Defendi) is caught in a cycle of one night stands and meaningless hook ups, much to the dismay of his protective older sister Francesca.

Cast: Tommy Defendi, Duncan Black, Brendan Patrick, Wolf Hudson
His Son's Best Friend 1 - Gay DVD - Studio: Icon Male

Conservative single father David Grant (Adam Russo) disapproves of teenage son Chris (Sam Truitt)'s mysterious new friend, Jimmy (Colton Gray). But when he learns that the sexy, blue eyed teen is homeless, David agrees to let his son's friend stay in the family guest room. Soon, an intense mutual attraction develops between the distinguished older man and the sultry young bad boy. Will caring father David confess his forbidden gay desires?
Hot Daddies - Gay DVD - Studio: Icon Male

The older they are, the harder they cum. Sexy daddies are on everyone's wish list and the scorching Hot Daddies offers the hottest and most well-hung older men in gay cinema. In this offering of both older/younger and all-mature sex scenes, you'll discover why daddies are known for making men of all ages come harder than they ever have before!
Men Seeking Men 1 - Gay DVD - Studio: Icon Male

In this compelling new series, four men step out of the closet to find the sexual encounters they crave. Married, frustrated stud Nick Capra meets up with model Jessie Colter to experience male love for the first time. Released felon Tommy Defendi finally meets unexpectedly hot prison pen pal Matt Stevens, and cocky Ty Roderick agrees to initiate shy young virgin Davey Anthony.

Men Seeking Men 2 - Gay DVD - Studio: Icon Male

Their only crime was a secret lust for other men. Men with secret desires for other men continue to give in to temptation. Before entering the priesthood, hot Irish stud Brendan Patrick wants to explore his gay urges with athletic, bi-curious Alex Greene. Hot Daddy Billy Santoro craves the tight young body of Sam Truitt, and childhood pals Brandon Wilde and Andrew Fitch realize they want more from each other than friendship.
Prisoner Of War - Gay DVD - Studio: Icon Male

The year is 1942, and hot, young American soldiers are risking life and limb to fight against the threat of Nazi invasion. But when a sadistic German officer (Rob Yaeger) captures hot, angry private Ty Roderick, a different kind of power struggle begins.


Schoolboy Fantasies - Gay DVD - Studio: Icon Male

This Bareback Bonanza is a hairy spunkalicious festival of raw bareback fuckery from Butch Dixon, with their well-endowed studs dipping their tools in raw holes and pumping them full of jizz.

They may be 100% straight, but they don't mind stretching, spreading, wanking and flexing for the boys. A beefy, creamy mix all topped with cream, fit for the most glutinous sexual appetite!
Schoolboy Fantasies 2 - Gay DVD - Studio: Icon Male

They want more than good grades. Dirty schoolboys are back for more illicit schoolboy fantasies and encounters that will leave you as hot and bothered as they are. Connor Maguire counsels bullied young schoolmate Ian Levine in the privacy of their dormroom, while Brandon Wilde confronts his mom's gorgeous deadbeat boyfriend Theo Ford.
Schoolboy Fantasies 3 - Gay DVD - Studio: Icon Male

Your favourite naughty schoolboys return in Schoolboy Fantasies 3, the third of Icon Male's hit series. Boy next door Brandon Wilde gets a creepy after-school visit from secret stalker Wolf Hudson, while Italian professor Tony Salerno has a secret tryst with hot young student Bryce Action. Wolf's sweet tooth then craves a taste of hot prep school boy Ethan Slade, while Tony Salerno plays Daddy to pretty hung thing Sam Tuitt. These schoolboys want more than good grades!
Straight Boy Seductions - Gay DVD - Studio: Icon Male

In this exciting new series from Icon Male, straight men are coaxed into experiencing the pleasure of man-on-man sex. Mature friends Adam Russo and Dirk Caber start off Straight Boy Seductions by getting physical at a swanky gentlemen's club, while sports coach Ty Roderick is seduced by nerdy closeted teen Asa Shaw. Lance Hart gives newly-single straight guy Robert Axel the sexual healing he craves, and Adam Russo and Ty Roderick make a second appearance as the most forbidden of couples.
Straight Boy Seductions 2 - Gay DVD - Studio: Icon Male

Straight boys are sexy - once they stop being straight. Straight Boy Seductions 2 is the emotional and passionate second volume of Icon Male's Straight Boy Seductions, in which muscle hunk Nick Capra secretly meets up with long-time friend Tony Salerno to explore their sexual attraction. Meanwhile, sensitive Brendan Patrick is slyly seduced by the tough yet gorgeous Jaxton Wheeler. Nick returns to seduce sexy handyman Andrew Fitch, and then Brendan has a session with cunning psychotherapist Rodney Steele.
Sugar Daddies - Gay DVD - Studio: Icon Male

Hot sexy daddies crave the touch of gorgeous young men - and they'll pay any price to get it. In Sugar Daddies, bad boy Wolf Hudson is totally into that life, and introduces teenage Ian Levine to the decadent world of sex, power and money. But is there more to these encounters than meets the eye? When emotions and sex are involved, anything can happen!
Sugar Daddies 2 - Gay DVD - Studio: Icon Male

Hot older men use their power and money to seduce sexy young guys in Sugar Daddies 2. Brandon Wilde plays boytoy to debonair Adam Russo, but secretly lusts for Adam's gorgeous son Andrew Fitch. Muscular Daddy Nick Capra seduces beautiful southern boy Ethan Slade, along with the baddest sugar baby of them all - streetwise Wolf Hudson.
The Stepfather 1 - Gay DVD - Studio: Icon Male

Closeted, middle-aged CEO Adam is engaged to be married to a beautiful woman, but when he meets his fiancee's teenage son (Casey Tanner) his secret gay desires become stronger than ever. Can Adam resist the charms of his slender-bodied, pretty blonde stepson?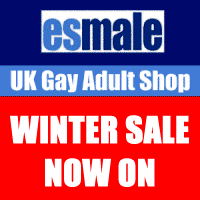 Esmale (UK Gay Adult Shop) sells a large range of gay adult sex toys including a range of fetish and restraint products, Cock and Ball play items, Whips, Paddles and Slappers, Blindfolds, Masks and Hood and are the UK stockist of Mr B leather and fetish products. They also sell a large range of aromas, condoms and lube, fleshjacks, jock straps and anal toys. Treat yourself!
Save an extra 10% on top of their already discounted prices with our exclusive code 'GAY10'. Click here to shop
See also: www.gayadultshops.co.uk