Summary:
Sexy USA studs most cute or handsome even a little boyish, ramrod each other's arses and deep throat each other's big cocks, includes excellent double entry action.
Description / Review
Scene 1: Jeremy Jordan, Virgil Sainclair, and Dominic Russio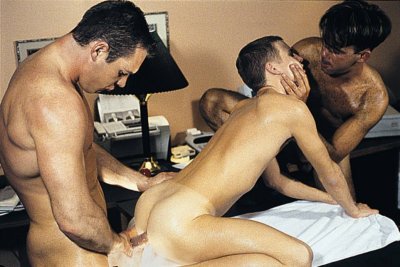 A very sexy boy who's tall close-cropped and is dark haired, who's one hot looking boy babe kicks off in this Chi Chi La Rue romp. He's sitting near the golden gate bridge in San Francisco explaining how his old boss got him to do extra work with him and any of his friends he wanted him to do it with, this opens the first sex scene with him Jeremy Jorden and one other guys in his bosses office. The first guy his boss Virgil who has a Big willy and a muscle build and short dark brown hair forces our cute boyish man babe stud Jeremy to deep throat on his big tool American style. Not long after they are both joined by Virgil's friend Dominic another muscular guy with brown hair and he has quite a freckled appearance. They both make Jordan deep throat on their big cocks. It's not long before these two handsome muscle men find the need to fuck Jordan's brains out, him being so boy babe sexy and all. Both guys give Jordan a good hard fucking he won't forget. Jordan makes these guys so hot and horny they shoot buckets, as his arse is so hot.
Scene 2: Tristan Paris, Buck Meadows, and David Pierre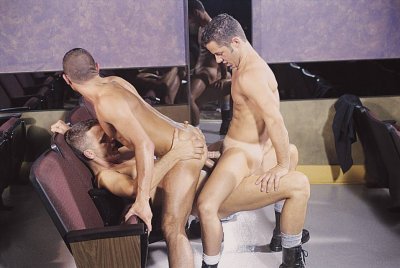 Jordan decides to go to the Knob Hill Theatre to watch some entertainment sadly he keeps his clothes on in this scene but then wouldn't you the ploughing he got. He starts watching the stripper on stage with other people in the audience watching too. Eventually Jordan leaves the audience and moves to the back as the threesome action starting to take place with three dark haired studs take place, which is too hot for our Jordan. Two of the guys are a little rugged lucking and a bit more muscular than the third dark haired guy who is pretty cute and well rather sexy. This scene includes a nice bit of foreskin play on and off and one of the rougher handsome guys out of the two gets a nice rough double entry fuck up his manhole. This makes for quite a horny scene as these guys really go at it with one another shifting from a double entry fuck into a two-way three-way butt plugging. Eventually they wank their man cream out of their own man sticks ending a pretty horny scene.
Scene 3: Addison Scott, Sebastian Gronoff, and Marcus Iron

The third scene gives us three guys in a massage room within the theatre. Two of the guys are slightly beefy dark haired and rather cute the third guy is a little rough looking and has a bold head and looks a little like a daddy figure but is toned and slim. The daddy looking guy makes both these dudes suck on his cock, both cute guys make a meal of it. Both the cute guys have slightly hairy chests, which looks quite sexy. It's not long before they are all blowing on each other's dicks one of the cute guys has a nice big uncut cock. After some butt hole poling eventually all three guys shoot their stuff and quite bit of it too I might add.
Scene 4: Vince Bandero, Nick Steel, Cameron Fox, and Travis Wade


The final scene makes way for the orgy back in the theatre and that's when our Jordan joins in again with some really cute looking stud man boys, one is a short haired blond and is soft featured, another is a very cute dark haired go go dancer and finally another guy is a seriously cute young looking slightly reddish brown haired guy who has a really sexy slim build who's called Cameron. After Jordan watches the action for a while he can't help but join in on all the cock slurping especially when even more men come in slurping on the man meat action, it's Cameron who invites him in on the action and gets him to suck on his big juicy cock. Eventually our Jordan gets his manhole pumped good and hard from most of his stud partners including by Cameron with his sexy bubble butt. Eventually all the guys shoot there loads all over.
A good La Rue production with most of the men looking either boyish cute or handsome and none of them are over muscled and most of them have a stud like build and are very nicely slim. The sex in this is rough USA La Rue style, which is heavy on the fucking and rough on the deep throat cock sucking, but then you'd expect that from a La Rue film. The cutest guys are the boyish looking Jordan and Cameron; these two are hotter than an orgy in Ibiza.
Studs & muscle men butt plugging and cock sucking a la USA style, most of the guys have well toned bubble butts and big cocks.