Description / Review:
Beautiful boys with bulging crotches and hard bodies, colliding in muscular, sweaty action as they slam-fuck each other's juicy, puckered holes and hose each other down with geysers of steaming jizz.

Scene 1: Charley Cole & Chris O'Neill
We're serving it up 'hung 'n' rough', with the latest spunky studs to hit the blocks, toned, lithe and of course uncut lets have a warm hand for Charley Cole and Chris O'Neill. Chris is a very adept bottom making scorching debut at uknakedmen, whilst Charley is an extra large stud with a heavy, dangling dick and a very lickeable foreskin and tasty dick - and he's brand spanking new too. We throw our lads onto the cock block and they get down to the nasty straight away. Two dirty blondes having a lot of fun, though I'm thinking this might not be natural hair colour here. Chris sucks cock like pro, he's had lots of practice, he slurps on Charley's XL meat as he sniffs his feet and stinky trainers before he's sitting back pushing Charley's head down onto his own throbbing, bulbous member.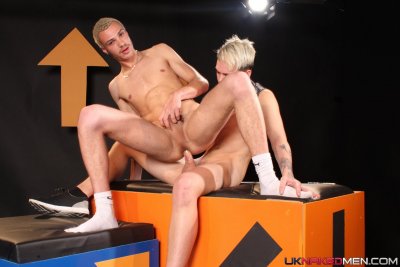 Out two lads are standing to full attention their swollen dicks swinging around like worship-worthy-totems. Chris is on his back, lifting up his firm, muscular legs, exposing his hot, juicy little hole to Charley's eager fingers, tongue and rigid dick. This stud is gonna get fucked all over the place and we'll be in there so close we can feel the heat, making sure we don't miss one rippling twitch of those pulsating erogenous zones.
Scene 2: Luke Tyler & Billy Rock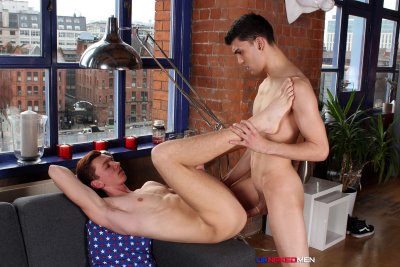 When Luke Tyler's in the shoot you know someone in for a soaking from the geyser geezer, the lucky wet-bottom-boy this time is sexy new face, ripped 'n' hung Billy Rock - he might be new (its hist first duo for us) but he's a born exhibitionist and luvs uncut cock as much as the next man. The two lithe young men strip off to a back drop of manchester, exploring each others taut, hard bodies and leading quickly down to each others considerable, hard, uncircumcised cock. Billy nurses on Luke's hot meat, teasing the foreskin with his tongue as the tool grows to absolute rigidity. Both of our strapping six foot hunks are naked in seconds - why wait? - take your finger off fast forward we're getting there! Billy's long, firm legs are up in the air exposing his wet hole to Luke's hard cock as it nudges into the tight opening to be enveloped by Billy's muscle-hole. We don't know what the neighbours thought as these boys fucked all over the flat and for a finale - at last we got a boy prepared to take on the massive cum facial that Luke Tyler's been dying to squirt all over a handsome face for a long time. ( By the time we're finished with Billy he's got a face like a decorators radio!)
Scene 3: Danny Davis, Rick Bauer
Scene 4: Isaac Eliad, Dylan Ayrton
Scene 5: Gaston Croupier, Sam Wallis